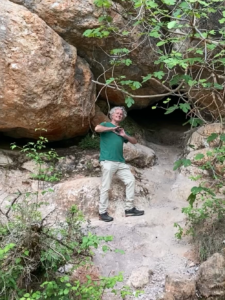 Ah! A month in Southern France and Ireland. It was charming and enlightening. In a departure from my usual newsletter style, I am going to share my travel experiences for August and September.
First, I went to France and met with Bart Sharp. Bart leads Mary Magdalene and the Ancient Path Tours annually, and he had intriguing sites to show me in the Languedoc Region. I always research in advance the areas I will be visiting on vacation, so I had gathered some of the history of France. With Bart's guidance, I experienced not only beauty, but also power spots in this lovely area rich in history and lore.
We ate delicious food, sometimes outdoors. At a little coffee shop near Alet-le-Ban, I had a melt-in-your-mouth croissant filled with chocolate and almonds that was swoon-worthy. The French often bring their pups to eateries, especially the open-air ones. One balmy evening while we awaited our pizzas on a sycamore-lined patio, I noticed a plump little dog standing at the table next to us softly making begging (grunting) sounds while staring up at the man there. I started laughing and asked if it was his dog. "No, I don't know this dog!" the diner replied. Soon, the dog was at my table begging, first me, and then Bart. He made the rounds. (And, no, I didn't feed him!)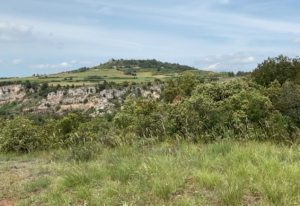 I climbed up a narrow mountain goat path, with a canyon on one side (with Bart's help and lots of encouragement) to the cave of Mary Magdalene for meditation. We stared across the way to the mountain which holds Rennes le Chateau, originally a prehistoric encampment, much later a Roman colony, then a Visigoth town. In 1050, a castle was built around it. In the 13th century, it was a home to the brave Cathars in the region who wanted to keep Christianity pure but were subsequently methodically wiped out by the Catholic Church.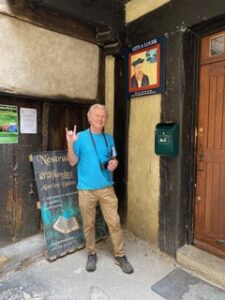 The village church was dedicated to Mary Magdalene around 1885. It is widely believed that Mary Magdalene was married to Jesus, and after the crucifixion fled first to Egypt, and some years later to the Languedoc area and had a long ministry there. It is now a beautiful mountain top village with quaint little shops, a couple of restaurants, a few homes, and a fascinating church filled with astrological, pagan, and Christian symbology.
On narrow, cobble-stoned streets we strolled an old Roman village that time had forgotten to one of Nostradamus's homes (the most famous visionary in history, 1503 to 1566). Agen was where he practiced medicine and astrology and began writing many of his astonishingly accurate prophecies about the future. It is still occupied by a homeowner, so we could only gape at the exterior.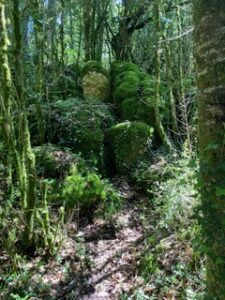 The place that, through my research, I longed most to see was the magical Labyrinthe Vert in Nebias Forest in the Aude. It did not disappoint! The rocks created a natural maze, much like the burrens in Ireland except much, much taller rock formations, some taller than me. Most everything is covered in a lush, green moss and the temperature was cool – a balm for the soul and body of this Texas woman. The tall oaks, fir, beech, and pine trees are moss-covered and exquisitely beautiful with sunlight streaming through in tiny rays, creating a kaleidoscope of pale-to-emerald greens.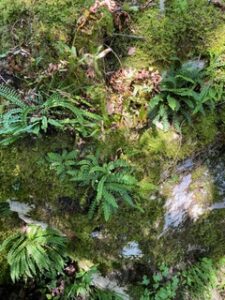 Online, a writer says you can make the eight-mile loop in 3 hours. I was amused. Why would anyone want to march through this enchanted forest? No – we dawdled, we gawked, we meditated, we touched, we leaned against power-emitting stones and trees. I kept expecting to see magical beings such as faeries and elves pop out from one boulder or another, grinning and thrilled at my stunned expression.
One full moon night around 9pm, I heard my very first cuckoo bird calling. We were going up to watch the UFOs at a spot next to Pic de Bugarach, a stargate mountain located in the foothills of the Pyrenees.  Bart had long been telling me about this place where white, and sometimes red, lights appear out of nowhere and drop, move laterally, or just flat disappear behind the mountain, seen especially clearly around full moon. We settled in on yoga mats and watched Mama Moon rise off to the right. I kid you not, things began to happen. I've never seen anything like it. Sometimes, several tiny balls of light would appear in rapid succession. Other times, there was a lull. Needless to say, that was an exciting night. We were there until the activity died down – about 2 1/2 hours, but it felt like 45 minutes. Heading back to the car, we were slightly stoned, yet drug-free.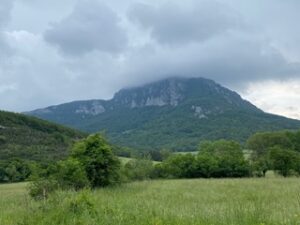 The big surprise for me was when we went to an ancient, mystical tree near Bucharach which must have been 700-800 years old. It isn't a pretty tree, as many large branches had died and dropped, and I don't know what kind it is, (Bart thinks it is sycamore) but I felt electric upon viewing it, like I was encountering an unexpected, old friend that I had loved for many years. I leaned against his trunk, and meditated for a while.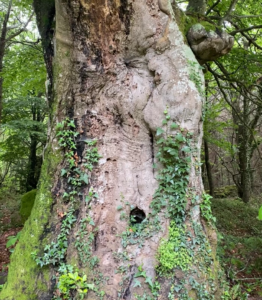 Hidden behind this grandfather tree was an extremely ancient stone circle. For much of my time across the pond, I have sought stone circles in Ireland, and this French one was a surprise. The stones were tumbled around, still recognizable as a circle, but Mother Earth had tossed them over on their sides. If one didn't know where to look for it, s/he would drive by the unmarked treasure.
A little bit further back was a spiral of stones. I stepped to the middle of the spiral and felt an amazing energy swirling up and surging around my body. Normally, I experience energy internally from power spots. But with this one, I felt a strong current wrap around my legs, torso and head in an astounding way. It was a one-of-a-kind experience. Needless to say, I was very enthusiastic to return to this enchanted little enclave before leaving.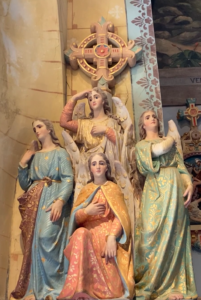 Bart also showed me old churches, most dedicated to either Mother Mary or Mary Magdalene. Notre Dame de Sabarts is a thousand years old, built by King Charlemagne after he saw an apparition of Mary there. These places are lovely, but being the Wild Child I am, my favorites were the outdoor adventures.
These were my top experiences, written in abbreviation, but there were many more delights. We ambled through street markets, saw a dolmen and a menhir, viewed Montseguir, (holdout of the Cathers) inhaled the fragrance of wildflowers, sat next to a waterfall, drank water blessed by Mother Mary at Notre Dames de Celles, and luxuriated in a natural water pool. If you desire a more fully written article of my experiences, drop me a line, and I will send it when it is ready. Dr.robin@compassionateclearing.com
Next month, Part 2 – Ireland!
~~~~~~~~~~~~~~~~~~~~~~~~~~~~~~~~~~~~~~~~
 "We must release this idea of "woo woo." We are all born incredibly woo woo, as we are of spirit. And we just forget. When someone says, "It's a little woo woo" it's really speaking to that part of themselves that they have forgotten. It's a fear response to change. It (EFT tapping) looks a little strange and so resistance comes up. When I see that, I know that this person is afraid of change. Get over it, and stop limiting yourself." ~ Brad Yates on Emotional Freedom Technique (tapping)
~~~~~~~~~~~~~~~~~~~~~~~~~~~~~~~~~~~~~~~~~